News
TRIAD Honored with Community Impact Award
Jun 17, 2016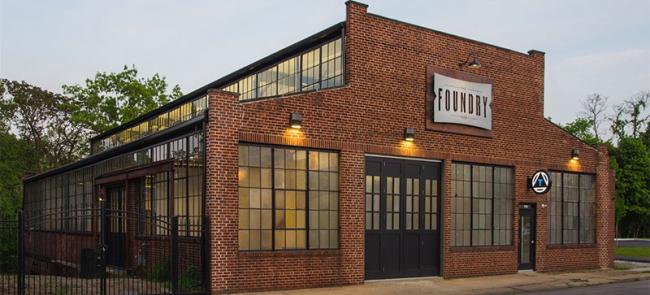 The Cleveland Restoration Society and AIA Cleveland presented TRIAD with a Community Impact Award for the restoration and preservation of the firm's new headquarters, The Foundry.
Located at 1701 Front Street, The Foundry is the first historical building in a newly designated Historic District in Cuyahoga Falls. One of the last standing industrial buildings that relied upon the river's hydroelectric dams, the Foundry was originally a welding shop owned and operated by the D.E. Lange family. In 1928 the family, which had operated out of a building on the adjacent lot, expanded operations and constructed the Foundry to house both the Lange Portable Electric Welding Company and the Falls Stamping & Welding Company. The Lange companies occupied the building until 1962.
"My goal was to transform this historic building into an engaging work space, and at the same time play an active role in the economic development of our local community,' said Rick Krochka, president. "It was important to preserve as much of the integrity of the building as possible, but also create a modern, fluid, working environment for my team. In the end, the building has become a cornerstone for the redevelopment of the riverfront area and we're proud to be a part of this new era for Cuyahoga Falls."
Earlier in the month, TRIAD was also presented with an Architectural Heritage Award for Adaptive Reuse Perfect Match – 'Historical Visionary' by the Summit County Historical Society and Progress Through Preservation.